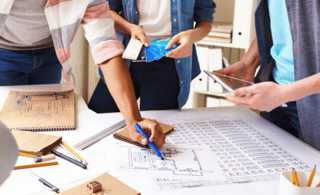 Two-dimensional (2D) drawings have played a major role in product design and manufacturing, and still play an important part today. Yet, 2D drawings can't always cut it in a 3D world.
2D drawings can provide a good understanding of how a product will function and what tolerances and dimensions are required to ensure fit and functionality.
The challenge is that 2D drawings have a few drawbacks that can hinder the manufacturing process within an organisation. This is where 3D design comes into its own.
Three-dimensional (3D) design is able to communicate product design in a way that boosts the efficiency of production without incurring a whole heap of extra costs. In fact, 3D design can save money.
So here's 3 reasons why 2D alone design can cause delays in the manufacturing process, and how 3D design can overcome them.
1) Multiple 2D drawings
Trying to describe a 3D world in a series of 2D drawings can get very complicated. It can be difficult to interpret a single 3D part from various 2D drawings and can lead to misinterpretations and misunderstandings between different teams in product development.
These challenges can be solved with 3D design and solid modelling, which are able to unambiguously define a 3D part in a single geometric file.
Moreover, the solid model is able to verify form, fit and functionality of a part, prior to the construction of prototypes. By being able to evaluate more designs in less time, manufacturing efficiency is boosted and product performance improvements can be achieved.
2) 2D drawings going out of sync
Handling multiple 2D drawings becomes trickier when design changes need to be made.
With 2D drawings, there are 3 different datasets that are needed in the design and development process; the solid model, the parts list and the 2D drawings. When design changes need to be made, it becomes a problem trying to make sure each of these datasets don't go out of sync.
Trying to correct multiple drawings can lead to design errors which can delay manufacturing and lead to the production of bad parts.
However, from a 3D design perspective such as using the CATIA 3D Master approach, the design of a 3D part is all managed within a single geometrical file, avoiding the hassle of dealing with multiple drawings.
3) 2D drawings and planes
2D drawings have been important in providing tolerancing, parts lists and other information critical to manufacturing and quality control.
Yet, all of the planes and features in a 2D view are all on top of each other, even if they are at the ends of the part. This makes it even more difficult to create accurate drawings that show the key features of a part.
This can lead to further errors as users can't identify the exact part features when looking at a 2D drawing of a complex part. However, using a 3D design approach this issue can be solved as drawings are no longer on top of one another, making it easier to identify each feature of the part.
Overall, although 2D design is central to the design process for most companies, 2D design does have its drawbacks including organising multiple drawings and ensuring accuracy in design.
This is where a 3D design approach is able to produce benefits in the design of a part, but also across the organisation and within the supply chain.
To learn more about the benefits of a 3D design approach, read the whitepaper 'CATIA 3D Master – Driving Accuracy into Your Business' and discover how we can help you to improve your drawings and increase your product quality.